Zayed Higher Organization for People of Determination (ZHO) voiced its feel of pride and honor that its member Abdullah Hilal Al Shamsi, with Down syndrome, joined Al Wathba Cycling Team, as the first person of determination officially joining this sport to represent the team in various races and competitions.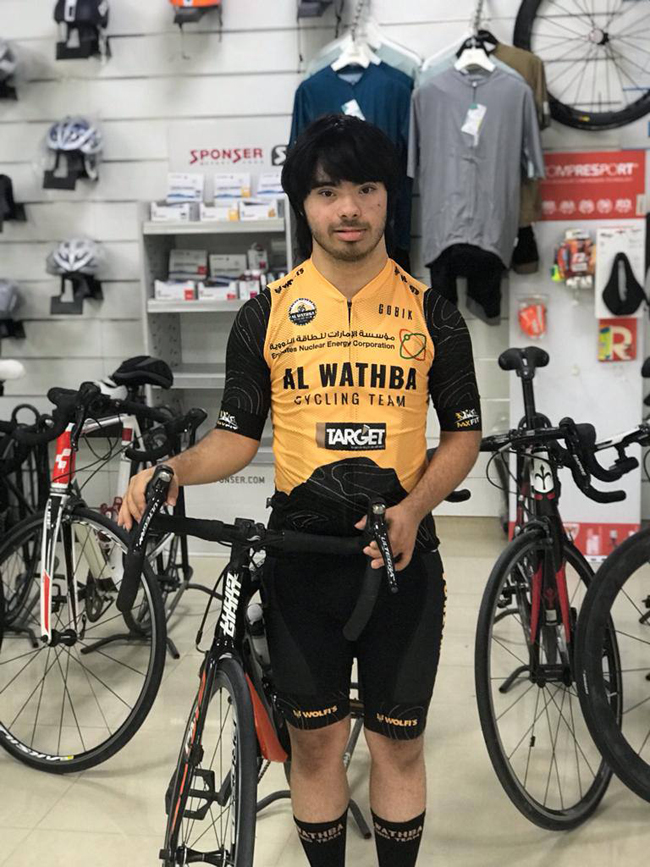 ZHO stressed its keen on supporting and encouraging all its members of determination to play sports of all kinds, especially as Abdullah Al Shamsi is fond of cycling and running. Abdullah joining Al Wathba Cycling Team and representing the team in races serves as a model and motivation for all his peers to move forward towards practicing sports and seeking excellence and creativity. ZHO thanked all Al Wathba Team's officials for their tremendous support to people of determination and thanked them for supporting its efforts to empower people of determination and integrate them into society.

Captain Suliman Al Hammadi, Director of Al Wathba Cycling Team, emphasized that attracting Abdullah Al Shamsi into the team is a community-based duty that is part of the team's goals to support this category and integrate it with the rest of categories to play sports, and to coexist with all. He stressed that Abdullah Al Shamsi added value to the team and not a burden. With training, focus and care, we aspire he would reach a distinguished level enabling him up to the international podiums.

Al Wathba Cycling Team is a community team founded in 2016. We are keen to include all male and female segments of society, of all nationalities and different ages to practice bicycling, running and others. We sought to have people of determination join us and we called them heroes of determination, as represented by the hero Abdullah Al-Shamsi. This is part of our responsibility as a community team, Al Hammadi said.

For his part, Hilal Abdullah Al Shamsi, Abdullah's father, thanked ZHO for supporting his son over his quest to reach this level of sport excellence. He also thanked Al Wathba Cycling Team and Director Suliman Al Hammadi for granting his son the chance, asserting that Abdullah is determined to take part in all cycling competitions locally, and regionally and internationally to get to the podiums and raise the Emirati flag.

Abdullah's father narrated how his son joined Al Wathba Cycling Team; "Abdullah has been practicing bicycling for two years, as a kind of doing the challenge. He took part in a myriad of state-wide community races and drew attention. Seven months ago, he seriously engaged in professional training on Al Wathba cycle track. He demonstrated great skills and capabilities and understanding of the directions of the cycling champions, a matter which prompted Al Wathba's management to invite him into its team, and we welcomed that."

He added that his son considers bicycling as a sort of challenge through which he is determined to become a champion. He receives support from every member of his family and ZHO. He took part in the last edition of Emirates Tawaf in the time-breaking race for a distance of 16 kilometers for the open category. Although he is only fifteen years old, he outperformed other riders and won first place.