Topland General Trading Company has approved Zayed Higher Organization for People of Determination (ZHO) as an exclusive center for the manufacture and production of Hidden Disabilities Sunflower lanyards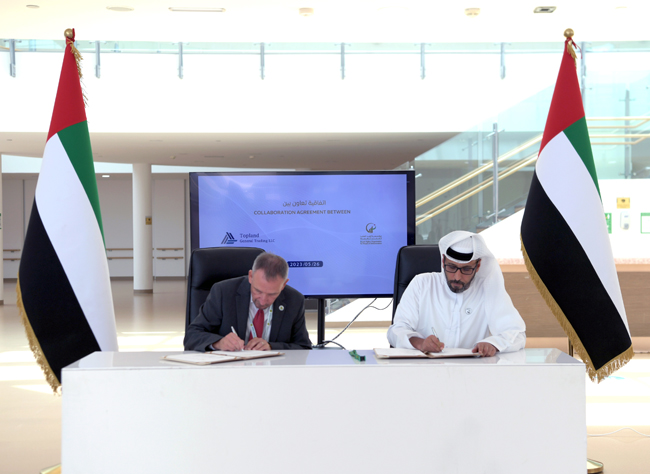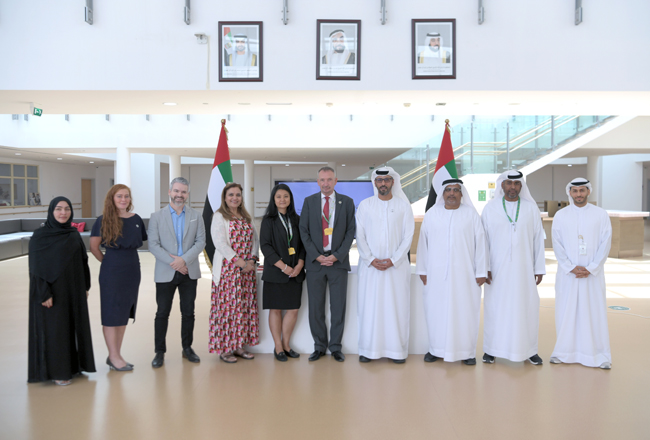 ZHO, Topland sign MoU

Topland General Trading Company has approved Zayed Higher Organization for People of Determination (ZHO) as an exclusive center for the manufacture and production of Hidden Disabilities Sunflower lanyards in the GCC region, by ZHO's members of determination at the vocational rehabilitation workshops. This comes through a joint memorandum of understanding signed between the two sides, according to which the lanyards decorated with the Bee logo, the distinguished mark of their products, on the product manufactured in the United Arab Emirates. Cooperation is also underway between the two sides on conducting studies and research to produce lanyards with environmentally friendly materials, including 3D hooks and locks, and planning to manufacture other sunflower products such as bags, badges, pins, and others at the Bee workshops.

The MoU was signed by ZHO's Secretary General H.E. Abdullah Abdul-Ali Al-Humaidan, and Topland's CEO and sole owner Mr. Andy Faulkner. A number of leaders from both sides attended the signing ceremony that took place at ZHO's People of Determination Production Center in Bahia.

According to the MoU, ZHO has the exclusive right to produce Sunflower lanyards for the Gulf Cooperation Council states, and will add other regions at a later stage. Topland shall buy 10.000 lanyards from ZHO, while during the first year, 100.000 Sunflower lanyards will be made to be sold to the GCC states. Events are being prepared and held for the purpose of promotion and marketing to display and sell the product. Additionally, the two sides seek to manufacture other Sunflower-patterned products, as bags, badges, pins, and others. ZHO shall provide a space within its Bahia Center to allow Topland to sort, pack and control quality. The use of this product is intended only to raise awareness of the hidden disabilities of people of determination.


Al-Humaidan hailed this step of signing the MoU with Topland, which specializes in providing the latest technologies, products and services for people of determination, expressing ZHO's deep appreciation for the company's confidence in the people of determination's manufacture of Sunflower lanyards, to be the first center for the production and distribution of this product across the GCC states.

In November 2021, ZHO launched the "Sunflower" community initiative for hidden disabilities to help the targeted categories by distinguishing them while wearing a Sunflower lanyard in public places that helps the surrounding community understand their needs, deal with them kindly, and always provide assistance for them. The initiative came in line with ZHO's strategy to make Abu Dhabi a friendly city to people of determination, aiming to educate community members to identify people of determination with hidden disabilities. The initiative includes specific learning difficulties, autism spectrum disorder, and communication disorders, Al-Humaidan added.

Paul White CEO of Hidden Disabilities Sunflower added "It's simply fantastic that not only will the Sunflower be supporting People of Determination across the UAE, but will also actively support People of Determination in employment by ZHO manufacturing the Sunflower lanyards."

Hidden Disabilities Sunflower founders and Topland's selection of ZHO as the first center for the manufacture and production of Sunflower lanyards for the GCC region contributes to reducing carbon emissions by up to 800 tons of carbon emissions per shipment in the air freight field, due to UAE's strategic location,

For his part, Andy Faulkner said: "Topland is pleased to cooperate with ZHO in order to start producing Sunflower lanyards for hidden disabilities to achieve a common goal of increasing happiness and social empowerment for people of determination", noting that manufacturing Sunflower lanyards will take place inside ZHO's Bahia Center, using environmentally-friendly materials and will include 3D printing wherever possible, a matter which will have a positive effect on sustainable development and the environment.

Andy Faulkner voiced his deep thanks to ZHO for that splendid bilateral cooperation, and expansion to promote the production and supply of Sunflower lanyards and attract customers from all over the GCC.

It is worth noting that the idea of using the Sunflower for hidden disabilities originated in the United Kingdom in 2016, and it has now become the globally recognized symbol for hidden disabilities and is used in a wide range of sectors around the globe, including sports, education, retail, financial services, entertainment, travel, healthcare, theaters and charities.