Exemplary Participation of Zayed Higher Athletes of Determination in the Czech Shotgun Shooting Championship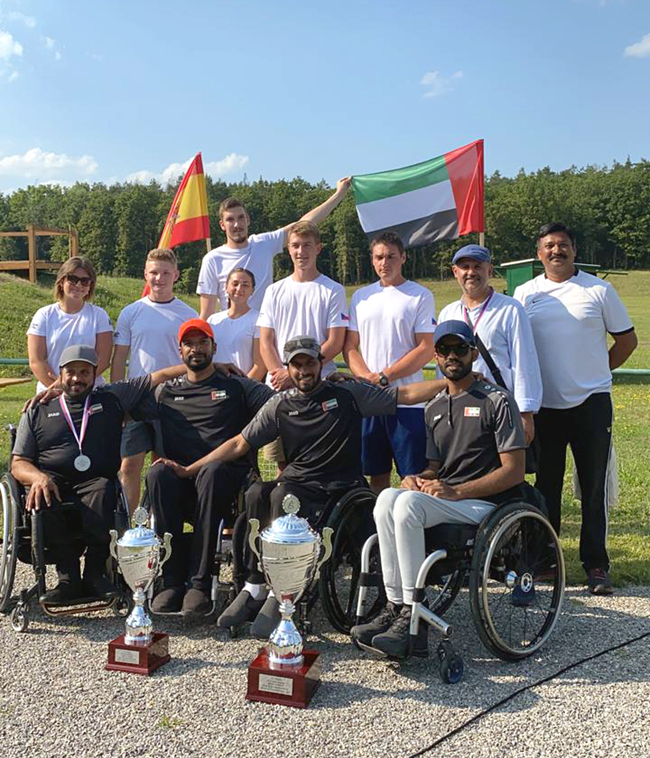 Mohammad Al-Habsi Finished First, Al-Hamid Third, and Al-Zubaidi Fourth in the Championship Competitions
The shooting team of Zayed Higher Organization, comprised of members of the Al Ain Club for People of Determination, continues its international success, as the organization's shooting champions achieved outstanding results during their participation in the Czech Republic International Championship, which was recently held in the capital, Prague. The team secured top places in the championship, in which 29 athletes, representing seven countries, namely the Czech Republic, the organizing country, Italy, Spain, Luxembourg, Austria, Germany and the shooting team from Zayed Higher Organization, representing the UAE participated. The athletes were distributed by category, with 14 athletes in the PT1 category, seven athletes in the PT2 category, and eight athletes in the PT3 category.
The results of the competition, which comes in preparation for the world championship competitions to be hosted in Italy next September, saw Mohammed Al-Habsi securing first place and the gold medal. Second place was awarded to Italian Fedro Jessi, while third and fourth place were secured by Mohammad Al-Hamid and Issa Al-Zubaidi respectively. The Czech athlete Kocek Jacob came in fifth place, while the Italian player Bartini Daniel ranked sixth.
Ismail Al-Maraziq, Director of Zayed Higher Organization's Sports Clubs Department, praised the level of athletic performance in the tournament, stressing that the exceptional results will serve as both encouragement and motivation in preparation for the World Championship competitions to be hosted in Italy next September. He added that the Sports Clubs of Zayed Higher Organization for People of Determination does not limit the competition participation of its athletes to local and regional competitions only, but rather encourages athlete participation in international competitions, which is made possible through the invaluable support provided to athletes of determination by our leaders.
He congratulated all the club's champions, and their coach, Najesh Anand, as well as the club administrator, Mohammad Juma, urging them to continue in their dedication and rigorous training to facilitate the continued success of the club's athletes, and to ensure the raising of our nation's flag at international competitions around the world.
Al-Maraziq added: "The tournament came at a very difficult time, due to the suspension of most international sporting events as a result of the Coronavirus pandemic, Covid-19, particularly in consideration of the proximity at which athletes interact and compete in such events. The tournament witnessed the participation of the world's leading shooting champions and has served as an indicator of the level of competition expected in the world championship, as well as optimum competition outcomes. We hope that this competition will serve as an indicator for our athletes in their bid to secure medals in the upcoming world championship competition".
He expressed his thanks and appreciation to the management of Zayed Higher Organization for People of Determination, which supports the participation of athletes of determination in all local, regional and international competitions.
SOURCE